Do-It-Yourself Apostille Legalization Guide!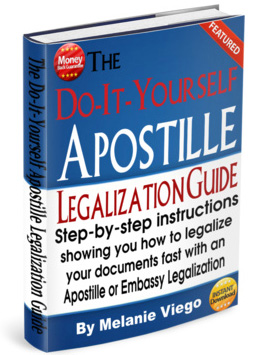 Apostille anything with our step-by-step, do-it-yourself, e-guide for all 50 U.S. States, including federal apostilles and embassy legalization. This is your only complete and instantly downloadable manual online for getting an apostille stamp or authentication for all your documents fast, (usually within 24-48 hours), securely, and for hundreds less than hiring a service.
Getting your documents legalized can be a complicated process, but that shouldn't mean that you need to waste hundreds of dollars hiring an apostille service to do exactly what you can do for yourself faster, even if you live outside of the country.
No service will do it faster or more securely than you can do it yourself using my guide which is written in easy-to-read English, using clear instructions that will guide you through the whole process!